PROCARV CNC Machines
CAD CAM Software
Equipment & Consumables
Machine Controller Retrofits
Training

3D Studio

Sub Contract

Consulting
SCANCAD SERVICES LTD
EWHURST ROAD.
CRANLEIGH.
SURREY GU6 7AE
T: 01483 906508
All rights reserved © SCANCAD Services Limited
In this video
Black granite book design & V carved lettering

Bath stone Curved cill with a 8mm weathered face. Laser Scanned surface prior to engraving 60 mm V carved letters.

White Marble Headstone Double 3D Rose carving.

Nabresina Headstone having embossed lettering, 3D Carved Dove & V carved lettering.
Have a look at our Projects page in which we have show a couple of interesting machining projects.
BROCHURE >
DATA SHEET >
About the Laser >
Equipment >
Gallery >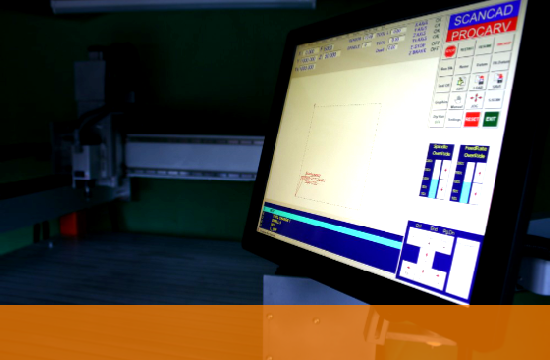 Meet the
PROCARV PNC 1010
With many standard features such as:
Touch screen control panel.

Imbedded operator aids.

Auto machine alignment.

Laser Surface scanning.

Panasonic Servo drives all axis. 10 meter/min

Vertical clamp for memorial bases.
Full Training & after sales support
Fast | Precise | Powerful
giving perfect results that you'll be proud of.
Arrange a demonstration
Call us on 01483 906508
MACHINE BUILD
C5 high precision Ball screw drive

Powered by Panasonic Servo motors

Speed: Rapids 10 mt per min

Raised Gantry for large material

3kW Spindle 2000 - 18000 rpm (Options are available)

Dust Extraction hood for spindle

T Slot Table Horizontal

Vertical jig for engraving memorial bases

Tool Sensor Touch block

2 x USB Ports

1 x Ethernet Port

17" Touch Screen | Keyboard | Mouse

Mains Isolator Switch
Video & Photo Gallery
FEATURES
17" Touch Screen Control

AMTECH GNC Controller

Software

AMTECH Controller Hardware

Variable Machine Speed override

Variable Spindle Speed override

Laser Surface Following

Laser Copy Scanning

Auto Machine alignment

Remote Hand Controller

GNC Operator Aids & Safety prompts

Controller Power Backup

Dust Covers on Y axis (optional for X axis)

X & Y axis: 1000mm x 1000mm coverage

Z axis: 250mm
Full machine training
Full after sales support
Projects
GNC Controller
Gives full control which is easy to understand.